It's mid August but
the shortening
days and cooler evenings hint at the coming Autumn season. here are some lovely items to celebrate.
Weekly posts showcase handmade items crafted from varied materials. I also share the post on my Pinterest, Tumbler, Twitter, Google +, Instagram and Facebook page. Where possible I have included social media links for the artist/crafter. We appreciate you commenting and sharing on social media.
"i am a mum of three and a Steiner trained teacher, i have been a handwork teacher and now assist in a Kindergarten. I am passionate about the use of natural materials. My work reflects a Waldorf style of craft with a reverence for nature and the cycle of the seasons, with many gnomes, fairies and pixies prancing through."
Woolley Mama on Facebook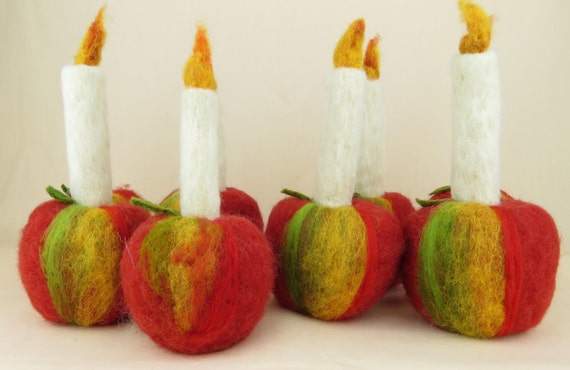 Advent Apple, Dry Felted
"Dry felted advent apple.Celebrate the coming of advent with these dry felted advent apples. Great for advent nature tables or to place on your Christmas tree (safer that lighted candles)."
"I never thought I'd end up making eco-friendly, wearable art that lasts for generations. Most of my previous jobs have been very practical--I'm also a registered dietitian and journalist. But my parents and grandparents always have been creative. When I was a little girl, one of my grandmothers sewed me a furry, brown teddy bear with a black velvet nose. I named him "Brownie"--maybe not the most creative choice, but hey, I was 3 years old--and loved him almost to pieces. I dragged him on adventures daily, snuggled with Brownie at bedtime, and lovingly rubbed all the velvet off his nose.
To this day, touching velvet feels like a hug from my Grandma Lorraine. But it's hard to find velvet items for women. Last year, I was excited to discover I could buy white silk velvet scarves and dye them any color I wanted with professional fiber-reactive dyes. And, being a mom, I wanted to color clothes for my toddler, so I learned some techniques for dyeing fun, machine-washable cotton clothing--my son loves his iced-dyed super-hero cape and matching T-shirt."
Jasmine Velvet on Facebook
Jasmine Velvet Website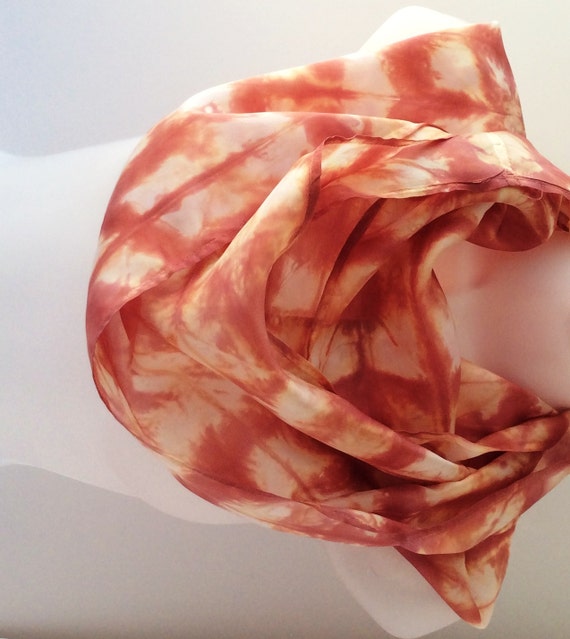 "I am a crafty homeschooling mama to three beautiful girls. They are my inspiration and motivation to create toys and learning tools they love. Hopefully your children will too. It is important to me to use the highest quality natural materials in all my creations. I hope you see something tickles your fancy."
The Toadstool Forest on Facebook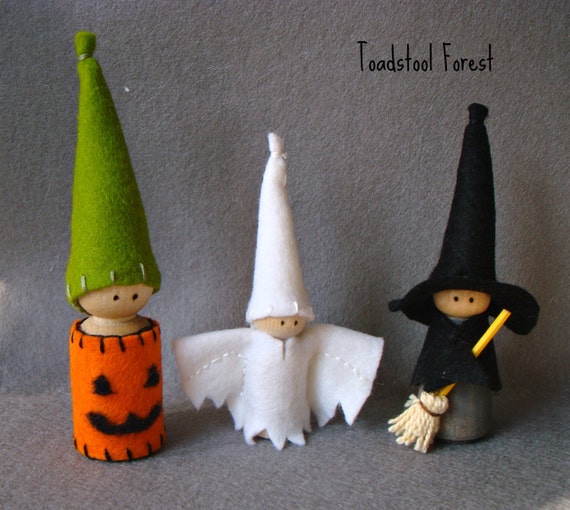 Waldorf Inspired Trick or Treaters ~ Witch, Jack O Lantern, Ghost peg dolls ~ Halloween Gnomes ~ Story Telling Props ~ Black, Orange & White
"These Waldorf inspired Trick or Treaters are sure to bring a bit of spooky fun to your seasonal table, story telling or imaginary play. The three friends include Little Witch, Jack O Lantern Gnome and Baby Ghost. Little Witch is made from a wooden angle peg which has been sanded smooth. Her dress is painted with grey water color. Her pointy hat and cloak are 100% wool felt and have been hand sewn. Her broom is a wood handle with cotton floss. Broom is removable. She stands approximately 4" tall. Jack O Lantern Gnome is a wooden peg doll which has been sanded smooth. His orange outfit has a needle felted jack o lantern face. His green gnome hat is his pumpkin's stem. He stands approximately 4.5" tall. Baby Ghost is a wooden peg doll which has been sanded smooth. His white ghostly robe is hand cut and sewn out of 100% wool felt. He wears a matching gnome hat. He stands approximately 2" tall. All three have wood burned eyes and have been finished with beeswax polish. This is a handmade item. The picture is representative of what you will receive, however please realize that slight differences will occur as a result of the creative possess. Made in a smoke free home."
"my name is Pamela and I live in the small mountain town in southwestern NH. I still love toys; trees and the living things that grow wild; histories, origins, storybooks, picture books and fairy tales of all kind; rocks, mountains, maps and terrain; typography, and ideas turned upside-down; folk hands, hand-stitching, patterns, textures, color and honest traditions that run deep; and all the other friendly playful things that function or are simply made to bring joy .... here I am two hands and a mischievous imagination making lively, useful, colorful, simple things for home and play.
I studied sculpture and design at the Cooper Union in NYC where I received my Bachelor of Fine Arts. I haven't stop chasing an idea yet. I love working with the materials that come from our natural world, like the native woods that grow near to where I live. I love the truthfulness of these materials and how they keep us connected to the place where we live."
Pretty Dreamer on Facebook
Pretty Dreamer on Twitter
Pretty Dreamer on Pinterest
Pretty Dreamer Website
Etsy Featured Shop:
Country Living Magazine featured product: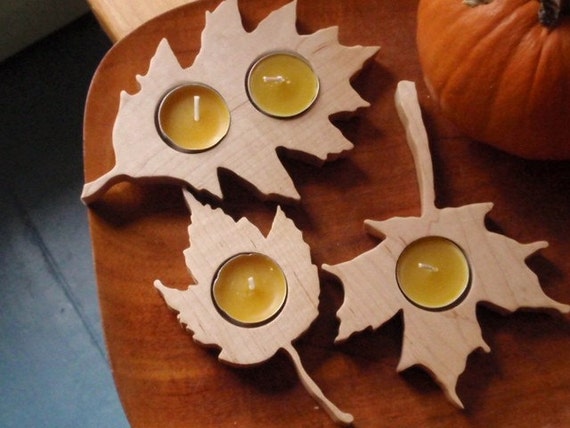 the windswept table/ woodland candle holders-- Featured: Country Living Magazine ---- eco friendly rustic weddings / nature inspired decor
"barely an oak leaf still hangs above ...
the autumn winds have swept them free..
and blown them here,
to the windswept table ...
handcrafted of native, sustainably-harvested hardwood
creates a stunning display in light and shadow. ..
a beautiful celebration of light for the nature inspired table,
woodland weddings and eco-friendly home decor
wonderful hostess gift that shares the gift of warmth
and light all the year round.
listing includes a set of 3 candle holders
with pure hand poured beeswax tea lights:
set of three nature-inspired woodland candle holders"

"I am 28 years old living in Jerusalem, Israel. I studied ceramics for 3 years and love making different kinds of art - pottery, paintings, felt and wool products. Every thing I make is done with lots of thought behind it and with a perpetual search for development and true meaning. Because of that, each item is unique and one of a kind. All the items in my shop are perfect as presents for loved ones, or for your own use."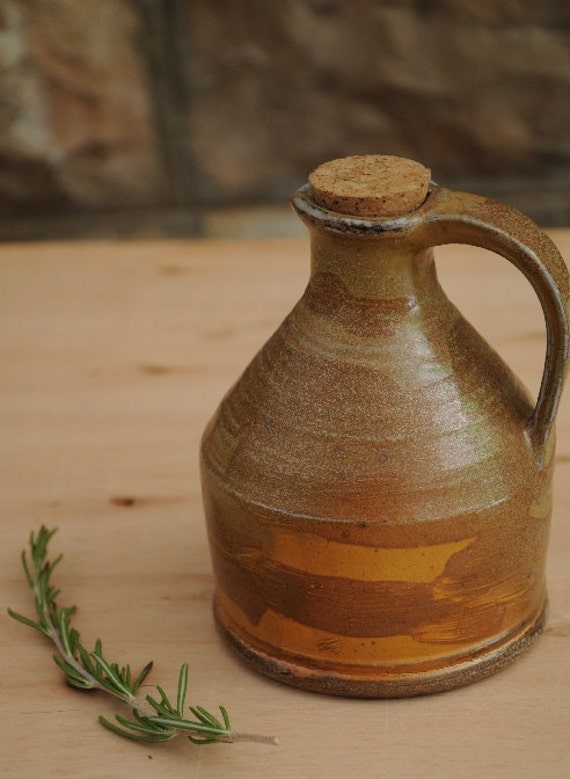 Jug with cork, salt fired
"This one of a kind, medium sized jug was hand made on a throwing wheel, with stoneware clay in high temperature salt firing (1260c). The unique color and texture are given by the radical effects of the salt thrown into the kiln during the firing. The jug is liquid safe glazed. The jug can be used for storing different kinds of liquids - oil, vinegar, alcohol, etc. The jug measures approximately 10cm wide and 13.5cm high (4'' X 5.3'') and can hold 1.75 cups (14 oz, 400ml) of liquid."
"I am an Italian Artist, Veggy mom of two little girls (Diana&Leda) and I really love Waldorf World! Now I live in Switzerland since 2010. I like to reflect on Nature and try to find myself in her. I have always painted and since I was a child have dreamed of magic images talking to sensitive hearts. They say I use bright, harmonious and powerful colors. I love the shades of blue and its subtle strength. Being evocative, for me, is a real need, which transpires in my paintings! I hope that you may find the right subject for you in my latest collection, and that it will lead you upwards towards the high peaks in your hearts! So, Welcome to my shop! and may all the pictures you choose guide you on your deepest, innermost paths!"
Claudia Nanni on Instagram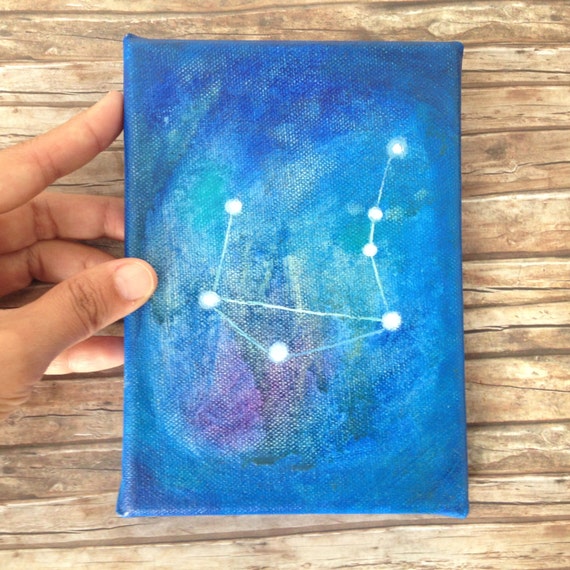 Libra Zodiac Constellation. Original miniature paintings. Canvas art. Libra constellation.
"Wall art. Libra Constellation, unique original paintings for a very special gift. Special gift for anniversary or Birthday. Blue mini paintings with Libra Constellations. Blue painting with stars. Home decor, Waldorf inspired art. NOTE:This listing is for 1 single original painting (Libra constellation). Along with the painting I will send you a card (with the astrological description) that you can hang on the wall or attach it to the back to create a UNIQUE piece. Is a very original idea!! :) Please look carefully to the pictures of this listing :) FOR ANOTHER CONSTELLATION SIGN please visit this listing:
https://www.etsy.com/ch-en/listing/204066260/waldorf-art-12-zodiac-constellations?ref=shop_home_active_14&langid_override=7
"
"This shop is the realization of a dream, I hope you enjoy our creations as much as we do them. Welcome to the enchanted forest. We are craftsmen, we work with our hands and we love to participate in multiple shows whether ecological, design or craft."
Tic Tac Toys on Facebook

"Carmina, a friendly fairy and temperamental, unlike her fellow likes to wear short hair and hat, beautiful combination of colors in merino wool feel and unbeatable quality, based on the guidelines waldorf, promote fantasy and fill rooms joy when their soft wool is rocked by the wind. We custom orders, design your fairy, invents his colors, send a sketch and make it happen Our figures are made of merino wool certified German origin (Öko-Tex Standard 100) is very important certification for the wool does not contain toxic substances and the origin of the wool is respectful of the animal. We are totally opposed to the animal abuse. Our supplier is free of mulesing. It is for this reason that we intend to adjust our prices to the fullest by offering certified materials and elaborate work with proper use can be passed from generation without any problems, thanks to proper pressing with needles that give a proper consistency to our creations."