More rainbow items from Waldorf Etsy shops around the world this week. next week I may turn my attention to Autumn themes
items
.
Weekly posts showcase handmade items crafted from varied materials. I also share the post on my Pinterest, Tumbler, Twitter, Google +, Instagram and Facebook page. Where possible I have included social media links for the artist/crafter. We appreciate you commenting and sharing on social media.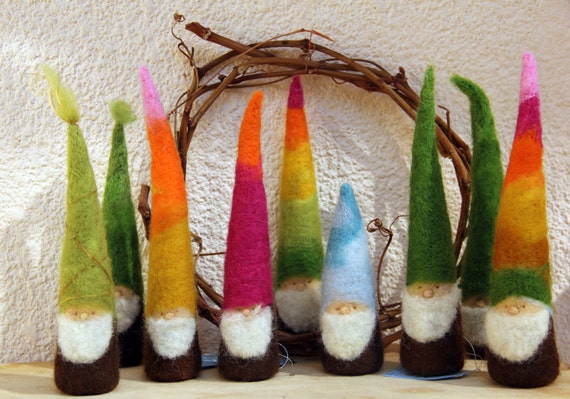 Galit from Israel
has a lovely shop full of needle felted gnomes for all seasons.
Item Description: "Original and one of a kind Needle felted gnomes. Each gnome is handmade from 100% pure wool, and needle felted tightly. This gnomes are just the right size for little hands and can fit in nicely with imaginative play or simply sitting quietly on a shelf or nature table. They stand about 7" tall from base to tip of hat and about 1.25"-1.5" base diameter. Not suitable for toddlers. The listing is for one gnome you can choose the color features of your gnomes: brown and autumn colors, brown and green meadows, brown and blues , Christmas gnomes (blue and red)."
For more pictures see this listings:
https://www.etsy.com/listing/118023042/tow-winter-gnomes-waldorf-inspired?ref=shop_home_active
https://www.etsy.com/listing/118023420/tow-winter-gnomes-waldorf-inspired?ref=shop_home_active
https://www.etsy.com/listing/115609851/5-felted-christmas-gnome-figurine?ref=shop_home_active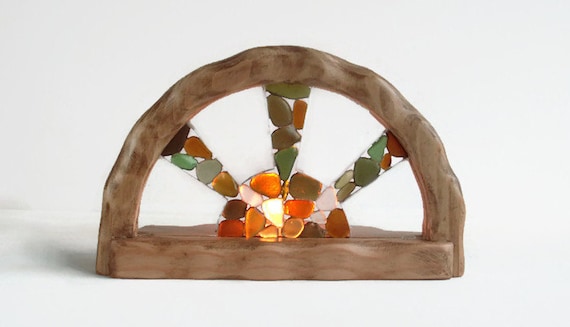 Guy from The United Kingdom
He writes: "
When I'm not creating, I enjoy spending time with my son on exploratory walks on the beach or in the nearby countryside. We always come back with something new and exciting to be used in a future project!"
Item Description: "Waldorf inspired wooden candle holder - Sea glass sun catcher - Sea glass candle holder - Waldorf home decor - Sea glass sun. Brighten your home with this beautiful rustic Waldorf inspired wood and sea glass candle holder. Crafted in England from reclaimed materials, this candle holder features a rising sun made from sea glass harvested from my local beach. At night with a candle burning the sea glass glows in the flickering candlelight. By day place by a window to capture the sun sparkling through the beads of sea glass. Will be well packed for shipping, ships worldwide. Candle holder dimensions approx: 4.5" high x 7.5" wide x 3.5" deep. (115mm x 185mm x 85mm)"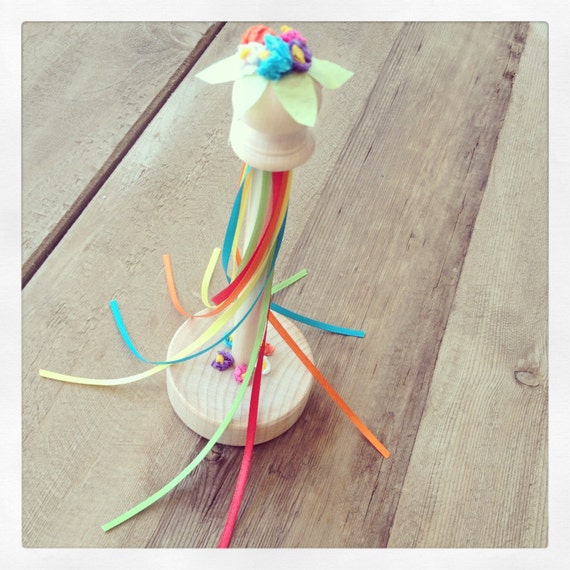 Kelly Niemaszyk from Massachusetts, USA
"I am inspired by nature and the changes in season and like to use high quality, natural materials made of wool, wood, and cotton in my work. These materials feel so good to the touch and are of course, more sustainable and safer than synthetics, especially when played with by little ones. I "up-cycle" when appropriate and use things like scrap wood that would otherwise end up in a job site dumpster. I love to incorporate treasures that I have collected from nature in my items such as acorn caps, pine cones, stones and sea shells."
Item Description: "Make your own 6.5" maypole display to celebrate May Day and Spring! This is a fun project with a beautiful and exciting result! Looks gorgeous in a fairy garden, on a nature table, or to set up small dolls, animals, or even toy cars around for play. Adults and children ages 3 and up can participate in its creation. Young children will need assistance. Waldorf inspired.
Kit Includes:
- Instructions with photos to make a 6.5" maypole
- 3 Wooden pieces (circular base, dowel and finial)
- 5 different colored ribbons
- Tissue paper
- Sandpaper
You'll Need:
- Craft or wood glue
- Scissors
- Something to protect your surface (paper, tray, etc.)
- A hammering tool (hammer, stone, etc.)
Small parts, please use caution with young children."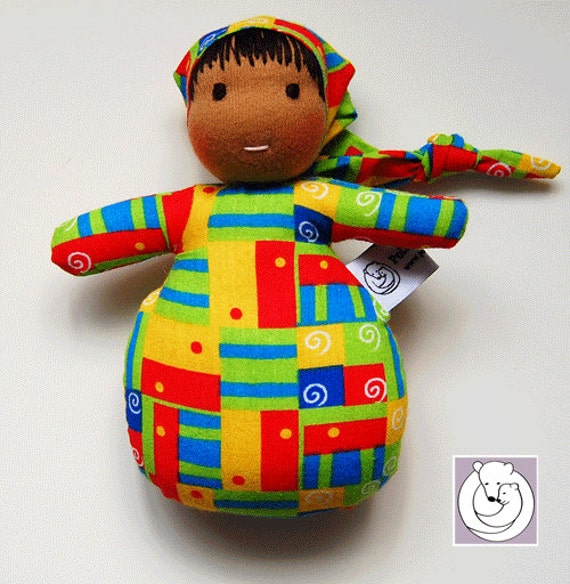 Sue from Canada
"I'm a creator of many things! My main focus theses day's lays in making dolls and toys from natural materials, which are inspired by the Waldorf Philosophy and that are safe for children of all ages. I believe that every child should have a handmade doll, which has been made with love and care, and is unique! Waldorf inspired dolls, with their simple, lovely faces, give children lots of room for imaginative play. Creative playing helps children to develop nurturing and a sense of their own "self". Isn't that something we need more of in our world today??"
Item Description: "This cute Mini Baby is about 7 inches tall (18 cm)and perfect for little hands.
(12 inches/ca 29 cm to the point of the hat). The Mini Babies body is made from pre-washed 100% cotton fabric and is stuffed with 100% clean, carded sheep wool. The head is made like the big dolls heads(but has no nose) and stuffed with sheep wool as well.The skin fabric is 100% cotton jersey knit from Switzerland. (GLOREX ) This fabric is tested for harmful substances by Oeko-Tex Standard 100. The eyes, mouth and a few strands of hair are stitched on. A bit of red beeswax is rubbed on to make the rosy cheeks. All seams are double sewn and with no small parts to swallow, this Mini Baby is perfect for your infant or baby. The Mini Baby can be washed by hand with wool soap"
Polar Bear Creations website and blog
Polar Bear Creations on Facebook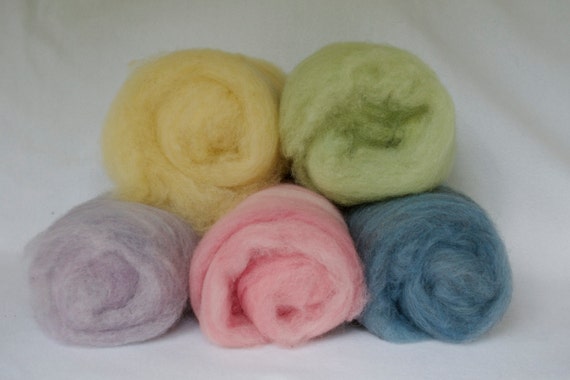 Julia Gray from NY, USA "I have always loved art & creating - I wear my heart on my sleeve. Color Color Color, I love using natural pigments from plants. Plant dying is so rewarding, especially in winter, I bring the colors of Summer/Autumn inside all year round. I love the texture of wool & creations I can make with a felting needle or spinning wheel - it's so tactile. Dyeing fiber has to be my number one passion right now."
Product Description: "This listing is for 5oz of a plant dyed batts in a Rainbow of colors - The batts are made up of mixed wool and most of them are merino, Finn, BFL and the like of soft wool. The plant dyes I used are mix too - Goldenrod, onion skins, madder, cochineal (actually this one is a bug not plant), Indigo and Logwood. You get all 5 - 1oz batts. This wool is great for felting wool - wet or dry. It also spins into a lofty soft yarn and this color is to dye for (hee he). All my batts are light tight and are fixed with Alum and Cream of Tartar. Each rolled batt weighs 1oz - light & fluffy, a dream to spin up. I have been dyeing for 10 years now and absolutely love it - the natural way all the colors blend harmoniously is a gift from the earth. Give yourself a treat and try natural colors."
Wool Ewe Play on Facebook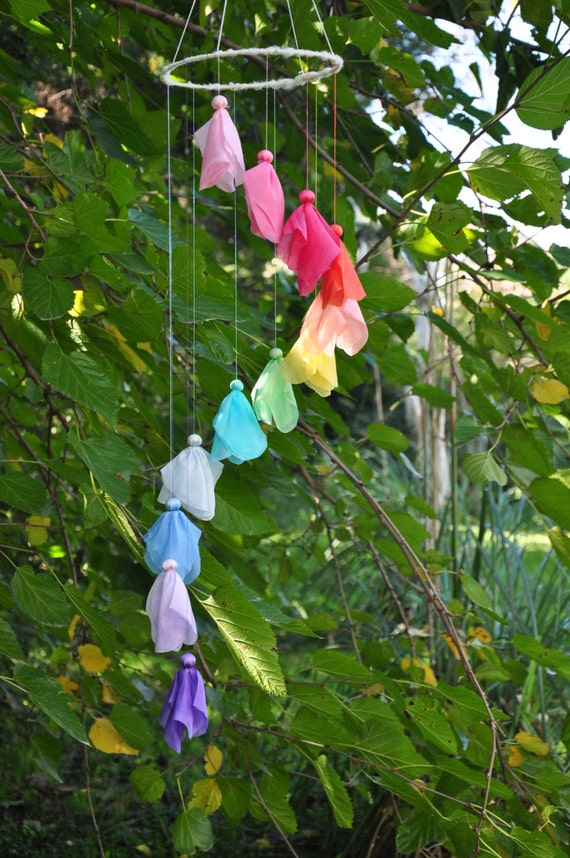 Soledad San Emeterio from Argentina
has a classic selection of handmade dolls, needle felted dolls and mobiles in her shop.
Item Description: "Mobile of 12 silk fairies. Perfect for the nursery as visual stimulation for baby or anywhere in the home. All items are handmade by me, in my smoke-free home. This is a Waldorf inspired piece made in wool and silk. It's been created to provide a peaceful and harmonious image that communicates with the soul through its colors, textures, forms and energy. For an expectant mother or a new baby, our Dancing Fairy Mobile Kit makes a wonderful gift you can make together with your children. Simply stuffing the silk squares with wool and attaching them to the hoop will make a beautiful mobile that parents and babies will love."
Jouets De La Terre on Facebook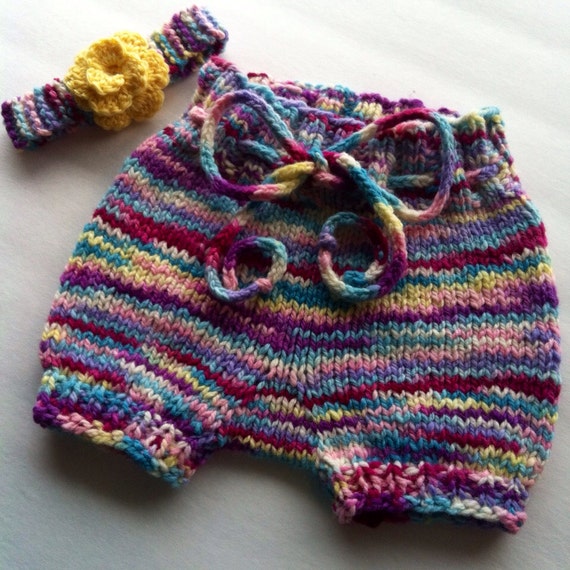 Anna Hallock from California, USA
"

I

started knitting as part of a role study in college and never stopped! After having my kids, I discovered baby and cloth diapering knits. I began selling locally and offering customs in the cloth diapering world. I am excited to meet all of you here on Etsy!"
Item Description: "These bloomers are the perfect spring wardrobe addition! Knit using Eco-Wrapz Spring Birds colorway on Cestari Fine Merino Wool.
Bloomer Size: Small - 0 to 6 Months
Rise: 16"
Hips: 19"
Waist: 14" at rest with plenty of stretch
Headband: 12" - 19"
Bloomers have a wide gusset, plenty of short rows, knit I-cord, and lots of stretch for a great fit over fluffy cloth diaper bums. Woolies are washed, lanolized, and ready to wear."
Anna on Facebook