Wow, where does the time go!? It's September, children are back to school and we look forward to the long Holiday season that begins with Michaelmas and goes through to New Years. This week's post continues the beauties of autumn from the Waldorf on Etsy Team shops around the world.
Weekly posts showcase handmade items crafted from varied materials. I also share the post on my Pinterest, Tumbler, Twitter, Google +, Instagram and Facebook page. Where possible I have included social media links for the artist/crafter. We appreciate you commenting and sharing on social media.
"My partner, human rights activist Nathan Monk, and I, have many opinions about big issues like the treatment of others and the environment. We often find ourselves daydreaming about a better world for all people, especially children.
In our home, we have tried to create an atmosphere of being conscious and loving toward all living things, which obviously includes people and animals, but we also acknowledge how important it is to keep the planet safe and healthy. We strive to teach our kids the realities of issues like sexism and homelessness, while also taking the time to remember how important things like organic gardening and upcycling are. A few years ago, we discovered open ended toys, and our lives were changed forever. Before natural, free play toys, our kids seemed to lack imagination in their play. We reminisced about our own childhoods and realized that modern toys take away the magic of pretend. As soon as we began to exchange their toys for a few silks and a handful of peg dolls, their play transformed into thousands of new stories. We hand-craft Waldorf inspired toys, in between standing up for homeless rights and fighting for the equality of all people. Our three beautiful children, who's ages range from 1-10 have tested all of the first drafts and they have been kid-approved for all of their varying ages and personalities.
We envision a world of thinkers and believers and daydreamers, where children will grow into adults who will want to make the world a better place. I believe that free play allows that development in a very special way."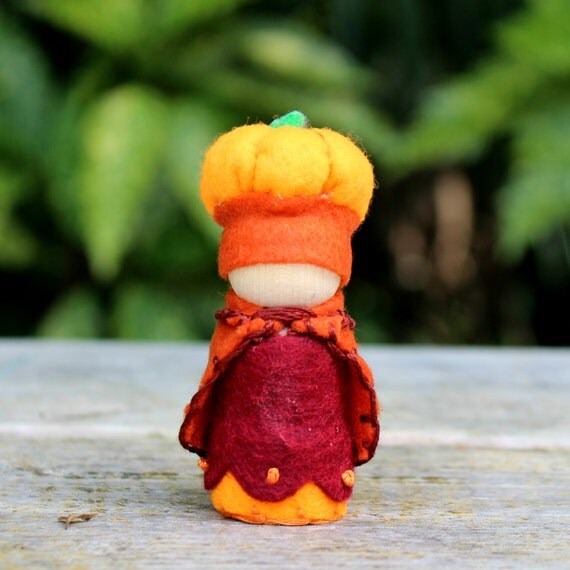 "This little pumpkin gnome proudly wears her pumpkin crown and Autumn leaf colored dress and cape. She is excited and ready for Fall!

Several years ago, someone told me about natural Waldorf inspired toys and our lives have never been the same. My kids wouldn't play for more than a few minutes at a time, and I didn't feel as though they played with their imaginations in the same way that I did as a child. I bought a few free-play toys and it changed everything. Now, my kids will play for hours with a few silks and a handful of peg dolls.

Each of these gnomes has a unfinished wood peg body, wrapped in felt with thread details. The little hats and capes are stitched on and meant to be worn permanently.

They are not meant for children who are still mouthing toys, as they prefer not to be eaten (and have small parts!) They measure about 4.5 inches tall from their bottom to the tips of their hats.

If you see something you like, that isn't quite the perfect little gnome you're looking for, send me a message, and we can brainstorm for the perfect design idea."


Beth has been an elementary teacher for the past 20 years. The Blissful Teacher was inspired by her two favorite passions - essential healing oils and helping teachers navigate their way through the everyday stresses today's teachers now face.
Therapeutic grade essential earth oils are natures medicine. These homeopathic sprays are available in a variety of blends and can help with a variety of ailments. Trouble sleeping? Anxious? Joint or muscle pain? Stuffy and congested? There is an oil for everyone. Throw in some clever teacher inspired names like Field Trip Fantasia or Lesson Plan Luxury along with a humorous description of a teacher's everyday stresses and you have a great product line that can be enjoyed by anyone, you don't even have to be a teacher. There is even a spray designed for the furry members of your family. Give one a try, you won't be disappointed!
Blissful Teacher on Facebook
Blissful Teacher on Twitter
Field
Trip Fantasia Aromatherapy Spray
"We offer a full line of Teacher Inspired essential oil sprays using therapeutic grade essential oils. These homeopathic sprays are available in a variety of blends and can help with a variety of ailments. Trouble sleeping? Anxious? Joint or muscle pain? Stuffy and congested? There is a spray for everyone, you don't even have to be a teacher. Choose from lemongrass, lavender, clove, ginger, peppermint and more! "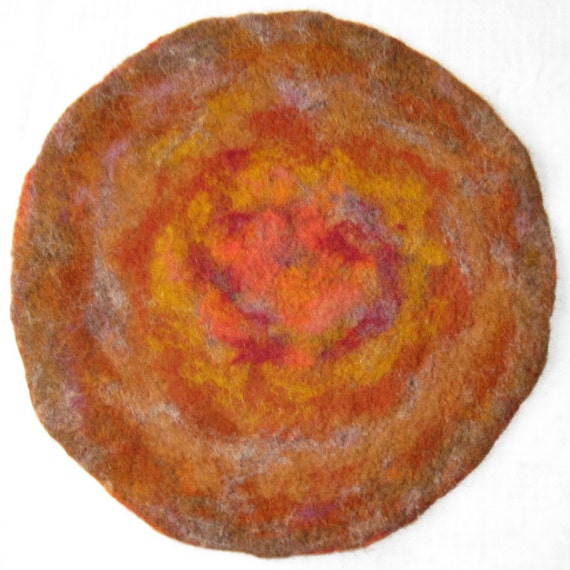 "This kind of tablecloth can be put under a candle, vase or teapot or just by itself - it is beautiful enough to bring warmth and magic into your home. In addition, it is two sided, so it can be fun to change the sides sometimes, thus creating a mood change to your day.
This table cloth was made to match the tea cosy that you can see in the picture:
https://www.etsy.com/listing/229273307/tea-cozy-tea-cosy-teapot-cozy-teapot?ref=shop_home_active_2
We will be happy to sell both at the price of 110 USD, please, convo if interested. Bargaining is also possible.
The joyful earthly colors make it a great decoration for any time of the year. Also you can use it as a part of Waldorf nature table.
Wool fiber is incredibly warm and naturally beautiful material. Diameter of the tablecloth is about 33 cm."
Mama Judes, Georgia, USA, Judy Forester
"I'm a fiber artist, teacher with students of all ages, and an indie dyer who specializes in using natural plant dyes. I'm a member of Phatfiber (www.phatfiber.com), and a Waldorf trained Handwork teacher. For over 20 years, I have worked in the textile arts, and I have taught children and adults for over 19 years. I have had the pleasure to teach at two different Waldorf schools and for several homeschool groups as well. My husband and I have a son in graduate school and a daughter who is in grade school. Currently, I am working out of my home, teaching homeschoolers and adults, running my on-line shop, and best of all, having a wonderful time with my daughter--who loves to stir things in the dye pots. Being at home gives me more time to play with my colors and my gal. We love plant dyes so much and hope you will too!
When it comes to natural dyes, I prefer to use the raw materials--nut hulls, wood chips, flowers, roots--whenever possible. It's kind of like making soup from scratch. The results are never the same, and I am constantly amazed by the results every time. These gifts from the plants are wondrous, and I am so grateful to Nature for sharing them with us. Thank you for letting me share them with you!"
MamaJude on Ravelry
Mama Jude on Twitter(Plant Dyed Stuff)
"I first made this dragon pattern when my son was in kindergarten (he's in college now). It has served me well over the years, and I've decided it's time to share.
This is a pattern for someone who has at least a little bit of sewing experience. You need to use blanket stitch and running stitch. This pattern is best made from wool felt and stuffed with stuffing wool. If you are interested in a kit, please contact me. I'll see what colors of plant dyed felt and embroidery thread I have on hand. The pattern has many pictures and explanations. It is four pages long. The finished size of the dragon is about 6 1/2 inches long and 4 1/2 inches tall.
This pattern comes in a PDF. I can also send it in Microsoft Word. If you would like a hard copy printed on cardstock, let me know and I can make a listing that would include the cost of the cardstock ($1 for the 4 pages) and shipping. Once you purchase the pattern, if you haven't received the PDF within 24 hours, please contact me so we can figure out where the pattern may have gone in cyberspace.
I have had some folks make this pattern and leave off the wings so that it is a dinosaur. This is a really fun pattern to make. I never tire of it. Please keep in mind that this is a pattern for your personal use only. Thanks so much for lookin'! Happy Handwork!
ABOUT THESE PLANT DYED ITEMS...
Plant dyes provide rich, vibrant colors that come directly from nature. Like natural fibers (such as wool, cotton, silk, or linen), they are a sustainable, renewable resource. Many of these plant dyes last a long time. (Think of a tapestry you might see in a museum.) Over the years, some of these colors may gently mellow. I feel that these shades are equally beautiful. (Please keep in mind that any item, even commercially dyed items like T-shirts, will fade from continued exposure to direct sunlight.)
Plant dyed items last best with a bit of special care. In the case of dolls, hats, and other toys, I suggest surface washing when necessary. Silk scarves or items knitted, crocheted or woven from plant dyed yarns can be washed separately by hand. Cold water is best. I use a mild dish soap or mild detergent to wash my own items and avoid soaps with enzymes. Sometimes soaps with enzymes can alter the ph of a plant dyed item and change the color.
I thoroughly wash items after the dying process and usually use Ecover fabric softener to smooth down the fibers of plant dyed yarns. I hope you enjoy the colors. Please feel free to contact me if you have questions or comments."
Noble Dolls, Eastern United States,

Cyd Gerling-Knoble
"I made my first doll when my 22 year old son was in Waldorf kindergarten. After over 15 years of doll making, I still love the process of making dolls, especially knowing that I am creating someone's new little friend. Noble Dolls is my home-based business that has grown up around this love.
In addition to doll making, I love homeschooling, hiking with my family, and playing the viola (not at the same time!). I love this journey that is life!"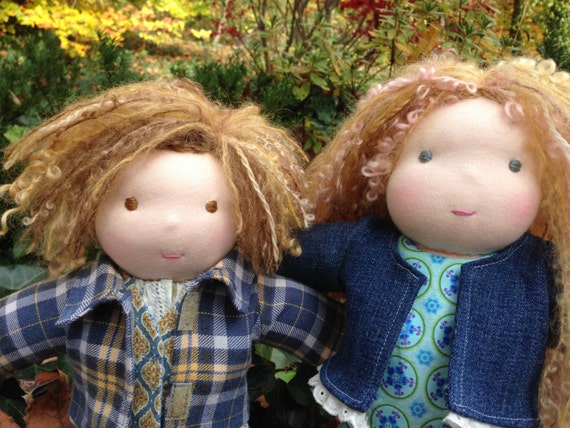 Custom Waldorf Doll 12- 14 inch Waldorf inspired Noble Doll
"Noble Dolls are hand made in the Waldorf tradition using organic cotton skin fabric and stuffed with 100% clean, carded wool. The embroidered features are kept quite simple to inspired your child's imagination. The hair is either wool yarn or a wool/mohair blend. Free highlights upon request. Long doll hair is crocheted and sewn on. It's multi-style, so your little one can work her style magic (ponytail, pigtails, long and flowing, etc). Boy hair can be multi-style if long, or choose tossled or crocheted close to the head and fuzzy.
The clothing is made of cotton and wool. I make for girl dolls a dress, pinafore, pantaloon and wool felt slippers set Boy dolls wear pants, shirt, and vest and wool felt slippers. Contact me if you have other ideas and I'll see what I can come up with!
For my most up to date gallery, copy and paste this: http:www.nobledolls.com (but come back to my Etsy shop to order!) The dolls shown are examples of custom dolls I have made for other children. The doll you order will vary based on your specifications. You will need to tell me skin, eye and hair color, clothing color preferences (though it must match the doll), whether or not you want a nose. A picture of the child is extremely helpful, but not necessary. I do my best work when I not only know hair, eye and skin color, but what makes this child's heart sing!
Because I make all my doll individually, there will be some variation in the sizing. I start with a 12 inch pattern, but it can be anywhere from 12-14 inches. Sometimes the project calls for more presence than can be contained in 12 inches! You can request that the doll be on the large side or petite side. You may also request that the doll be stuffed thin, chubby, extra firm or soft or anything in between.
The best possible doll for a child is one made with love for him or her. If you are not able to make a doll for the wee one you love, I would love to make that doll for you!"
"Felt and Grain was created as my little creative space.
I was born in Colombia and now live in a very special town in Australia called Castlemaine, a town of many talents.

I have always make things with my hands from crocheting, wood working, jewellery making, etc but since I became a mother making toys for my children centre most of my attention, specially since we started our journey with waldorf education.

Now Felt and Grain is my own pursuit in life, Needle Felting is the technique of my art. I love it and I found it very relaxing and therapeutical and making pieces that are going to be enjoy by others, feels very special.

I am so grateful with life, appreciative of what hands can do and with my beautiful customers that had been like the stepping stone in every market I have done, thank you so much and thanks for people that appreciate things made by hand.

Thanks to Maria for teaching me Needle Felting."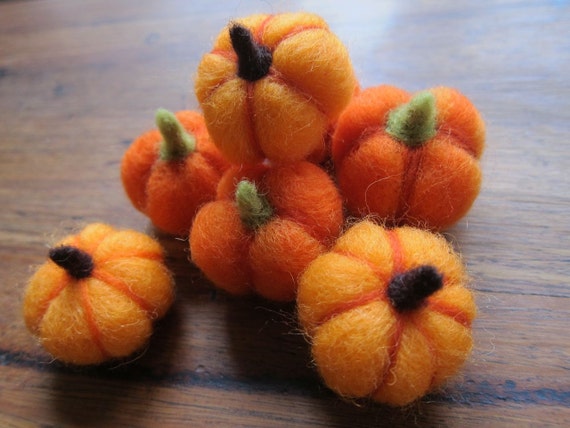 "They are little pumpkins that would decorate any
thanksgiving
table, fall or
Halloween
festival, They are sold separately for more convenience. They are handmade with 100% wool using needle felting technique.
THIS LISTING IS ONLY FOR ONE PUMPKIN, please contact me if you want to add more in your order.
They measure approximate 1 1/8 " x 2 "
"Alkelda Dolls is a shop devoted to dolls for storytelling, display, and creative play.
Like Goldie in M.B. Goffstein's Goldie the Dollmaker, I devote time and care with each doll. Every doll I send out into the world has its own personal story. In keeping with the diversity of the Earth's population, my dolls display a range of skin-tones, hair hues and eye colors.
Here is the Indie Artist Spotlight of Alkelda Dolls that Jama's Alphabet Soup featured in June 2013:
http://jamarattigan.com/2013/06/11/indie-artist-spotlight-farida-dowler-of-alkelda-dolls/
I am honored when you decide to bring one of my dolls into your home. I enjoy hearing from people, too. Please feel welcome to send me a note about the stories and dolls in your lives."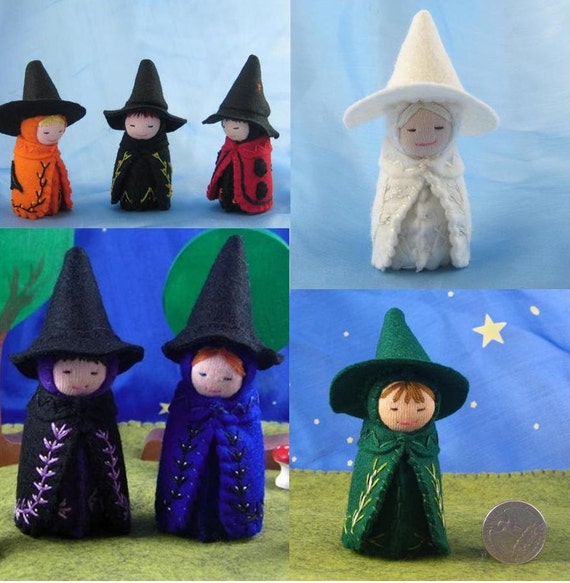 "The made-to-order witch doll I'd like to create for you is inspired by the books I loved as a child that were about witch children.* The photos in this listing show the variety of witches I've made over the years. In the notes to seller section, please let me know the colors you'd like for your witch (felt, hair, eyes, skin tone), plus any specific details you'd like for the cloak. Browse through my Sold Orders for embroidery ideas-- if I've stitched it before, I can stitch a variation again! Please be willing to be in regular email contact with me as I create your custom order.
Your witch doll is eager to become part of a nature table, take a role in a story, or quietly inspire you from a corner of your desk. He or she stand 10.2 cm tall (4 inches) tall with the hat on and 7 cm (2.75 inches) when the hat is removed. The witch's face will be embroidered simply in the Waldorf tradition to encourage open creativity.
Your witch doll will be appropriate for display and gentle play. This doll should be kept out of reach from pets and children who still put toys in their mouths (small parts may be a choking hazard). The base of the doll is signed in thread with an "A."
If you need some wooden shrubbery and mushrooms of your own such as the ones depicted in the lower left, photo, check out The Enchanted Cupboard:
https://www.etsy.com/shop/TheEnchantedCupboard
Please read my Policies prior to purchase. This doll is suitable for display and storytelling, and should be kept out of reach from pets and children who still put toys in their mouths (small parts may be a choking hazard). The base of the doll is signed in thread with an "A."


"I am a mamma. wife. sustainable farmer. student of yoga. northwoods lover and avid hiker. camper. outdoors person. I string beads as a form of meditation. I seek to be the change that I wish to see in this world.
all work inspired by a simple life and the natural world.

:welcome to my little shop. all shop proceeds go to support our small sustainable veggie farm.

:in the Fall we sow the cover crop of Winter Rye. my days are turned inward. curled up by the fire. creating with my hands."


108 Mala Beads. agate slab. red jade. dalmation jasper. Mala Beads. Handknotted Prayer Beads. Heart. Yoga Jewelry.

"This gorgeous mala features a large polished agate slab. the slab sparkles pink and peach hues in the light.

rudraksha bead. dalmation jasper. red jade.

wood to ground us. dalmation jasper has been said to bring childlike joy to the heart and healing to the soul.

108 bead mala. hand-knotted as my meditation with cotton cording.

four full wraps around my hand.

measures 36 inches around. full drop to end of tassel is just over 21 inches. agate slab hangs 2 3/4 inches long."