Michaelmas season lasts for the month of October. Click this link to read more:
The Festival of Human Becoming
Weekly posts showcase handmade items crafted from varied materials. I also share the post on my
Pinterest,
Tumbler
,
Twitter
,
Google +
,
Instagram
and
Facebook
page. Where possible I have included social media links for the artist/crafter. We appreciate you commenting and sharing on social media.
It all began with imaginary friends and pretend!
I used to play around the puzzle tree with my sisters when I was small, imagining a beautiful door in the tree, only unlocked by fitting the right piece of tree bark in the correct spot on the trunk. Open the door and behold! A sparkling land of magical unicorns that could grow big so my sisters and I could ride them, or tiny so they could fit into our pockets while in school.

Now I delight in creating little bodies for these wonder-filled unicorn friends, so they can go adventuring with their people!

After years of selling our mythical unicorns, pegasus, ponies, and pegacorns, we have had many customers asking for dragons. Mark designed a dragon pattern that is uniquely our own. This has added a boyish element to our shop, balancing the unicorns and rainbows with some earthy fire.

We started selling fun stuff at a beautiful little Lavender Festival in Hood River Oregon in the summer of 2009, and immediately found great joy in festival life. Our little booth has grown and changed dramatically over the years, but has always remained whimsical, fantastical and fun.

We sell at renaissance faires, pirate festivals, farmer's markets, street fairs, and (our favorites) all the sweet little festivals found in the beautiful pockets of Oregon...lavender fests, garlic fests, blackberry fests and the like.

Etsy started as a winter time after-thought and has turned into an intriguing venue in and of itself. We spend much of our time throughout our week enjoying the process of creating custom critters for awesome handmade-lovin' folks who are a pleasure to work with. We throw in some of our own unique designs as they come, and revel in the fun of it!

Our approach is positive and happy and we love working alongside other Etsians to help the world feel more magical!
The Roaming Peddlers on Facebook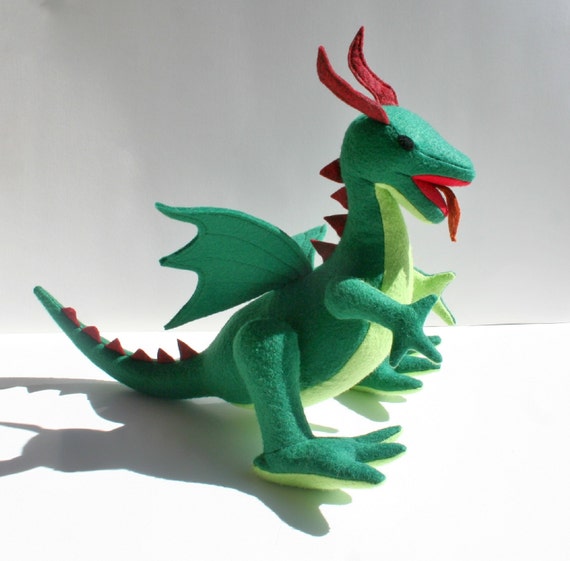 Classic Green Dragon
This green serpent-like dragon is accented with dark red scales and horns that make him seem so royal and rich and strong! You can almost imagine him guarding a giant pile of sparkling gold . . .
Our dragons are are all friendly dragons. They like to look majestic, perched atop a shelf or dresser, but also like to be played with and snuggled!
This completely handcrafted stuffed dragon is made of Eco-felt. He is mostly grass green, accented with lime green and deep red. He has a forked orange tongue and his wings are veined with silver thread, with a wingspan of 12 inches.
He stands about 10 inches tall from the top of the head to the feet, and is approximately 13 inches from tongue to tail tip. His plush body weighs approximately 5 ounces. The eyes are sewn-on wool, so there are no choking hazards.
Please choose the eye color you desire for your dragon from the drop-down menu on this page. Black is most visible and recommended, but we are happy to put any color eyes you like.
The dragon pictured is an example of the dragon you will receive when purchasing. We will make your dragon with the exact color scheme described in this listing.
WHY OUR DRAGONS ARE CONSIDERED "GREEN" OR "ECO-FRIENDLY:"
Our unique fantastical creatures are made of Eco-Fi felt, which is a high-quality polyester fiber made from 100% post-consumer recycled bottles. We purchase our felt brand new from our local craft store and put much time, care, and love into creating each little dragon, unicorn, or pegacorn. Check out how your purchase of wares made of Eco-Fi felt helps keep our world green! This site shows how the recycled felt is made and what an impact it makes:
http://www.eco-fi.com/index.html
-If you prefer a more natural fabric, please check out our
WOOL FELT DRAGONS
I am a 49 year old mother of a girl and two boys, and our golden retriver Lotta :o)
We live in a small German village near Cologne
.
I create flower dolls for about 12 years and I love it to create the little characters.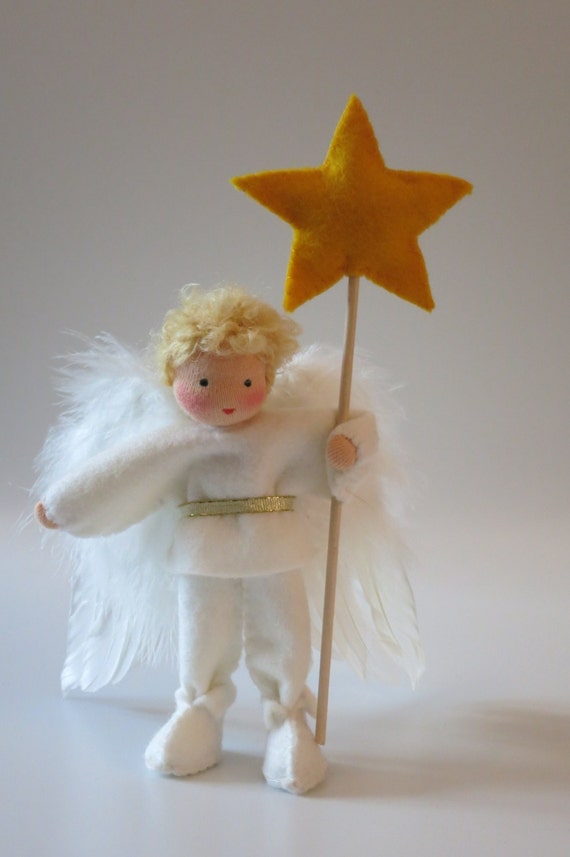 Angel Boy
The little Angel is made of 100 % wool-felt, fairy tale-wool,feather and tricot material.
The doll is approx. 13,5 centimeters high
The filling is sheepwool
Not suitable for the under 3's.
Your doll will be unique!
Made to order
When Ann's (Harvest Moon by Hand's owner's) daughters were younger, she took them to a weekly program at the local Waldorf school. The windows were decorated with a variety of the sun catchers, and she thought they looked so beautiful with the sunlight shining through them.
While the children were playing, the parents would attend a "class" about different topics. One session was focused on creating a calming and beautiful home environment for children. She immediately thought of the stars and how they could enhance different rooms in the home.
In February 2008, Ann opened an account on Etsy after reading about it in the local paper. In Spring 2008, she began listing items in Harvest Moon by Hand's shop. Being a part of Etsy has been wonderful. It has given Ann an opportunity to create and sell her work to people around the world.
Bring some beautiful color to your days! This Waldorf-inspired window star will brighten your windows.

If you place your star in a sunny window, the special translucent paper has a stained glass glowing effect that's quite pretty.

I make the stars by hand-folding small squares of paper, overlaying the folded paper, and then gluing them together to create different patterns.

This is a very intricate window star, and takes quite a while to make. It is one of the more complex stars offered by Harvest Moon by Hand.

This star is folded 24 times per point (with 16 points that's 384 times to make this star); and measures approximately 10 inches in diameter.

The star looks wonderful in groups or by itself.
Preparing for a little baby which comes into your home is a wonderful, magical fun and binding process.
Buying all the little things which you will need; clothes, a pair of socks, onesies, even some little pair of scissors to cut the tiny fingernails. Decorating the nursery; deciding the colours for the wall, the patterns on the bedding, the right corner for the crib.
Going through this process with my own two sons, I found making my son something with my own two hands the most rewarding of all.
My shop offers you a sewing kit to make your own baby mobile. Because I found it important to use just natural products in my nursery I decided all my DIY sewing kits for a baby should just have natural products. No synthetics, no wool blends, just wool, wool felt, and cotton. It just gives you the best results for your efforts and it feels right to give your baby just the best!
Do you have a question? A custom order? Just contact me!
For me, my TinyLuck shop gives me the opportunity to share with you my love for crafting and creating. Everytime I myself create something it feels so rewarding. Each creation has it's own personality and charm, because of the love you put into it. Sewing kits for you,to welcome your little baby!
TinyLuck also allows me to be a stay-at-home mom at the same time. I am so thankful for that. Thank you!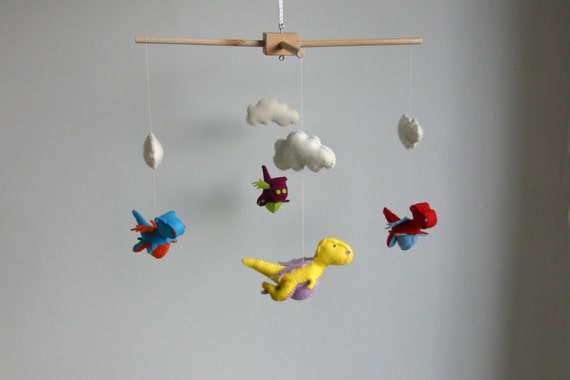 DIY kit, Baby Dragon Mobile
"What is more rewarding than making your own baby a mobile? This DIY Dragon Mobile is easy to make with clear illustrated instructions. Colourful and flying, they will entertain your little one with just the slightest breeze! No, there is nothing dangerous about these Tiny Dragons! They can adopt any colour you wish.
Making this kit I made sure only the best quality materials are selected to give you the best results for your efforts. If you want, you can select your own 8 colours.
Level of difficulty: Intermediate; not too difficult
Measurements: approx. 15 inch wide x 15 inch high / approx. 40 cm wide x 40 cm high.
Materials: beech wood or rattan, 100% wool and 100% wool felt
Available languages: English, Dutch and German.
Includes:
- full colour booklet including patterns and clear instructions
- 100 % wool felt to make all the animals
- mobile hanger (choose your preferred one)
- combed and cleaned wool from Dutch sheep for filling
- optional: stitching materials (yarn in various colours, strong thread, 2 pins and a needle)
This kit includes one mobile frame. You can choose which one you prefer;
a) a flexible one from rattan and beads (easy to balance)
b) a sturdy one from beech wood
The mobile hangers include a long string so you can easily hang this from the ceiling with your own secured hook. Another option is for you to add your own crib attachment like a baby mobile arm. Mind: Hang your mobile high enough, so your child cannot reach it.
Please add:
- scissors, paper, pencil
- a bit of your time and love
- optional: stitching materials (can also be included)
... and you'll have your own Baby Dragon mobile!
If you want, you can change the colours and let me know your specific colour preferences. Unless otherwise indicated, you will receive the colours as indicated in the pictures."
I am a self-taught puzzle maker. Over the past seven years I have learned so much about the craft of making wooden puzzles. It's really brought out the creative side in me as well. I am constantly finding inspiration for new puzzles all around me I'm constantly adding new puzzles to my store so my site will always be evolving. Stop by often to see what's new!
Recently I added wedding guest book puzzles in the shape of a tree to my puzzle collection. These puzzles are a unique alternative to the traditional wedding guest book. The idea is each guest signs a piece of the puzzle and leaves a short message and then the couple has a cherished memento of their special day that they can put together and read all of the wonderful sentiments left by their guests. They come in various sizes and with or without a tray frame for hanging. They come unfinished or custom painted as well. I have 50pc., 40 pc., 75 pc., 100 pc and 120 pc puzzles. I also make a 3d guest book tree which is great for weddings or family reunions. They make great family trees. These come in 30 pc. or 50 pc puzzles. Or I can custom make you any amount of pieces 50 and under.
As a former preschool teacher of 16 years, I was always inventing and creating new learning materials and activities for the children in my class. I really wanted to encourage a love of learning so I was always looking for unique ways to engage children in fun activities that would stimulate their mind and body. I think that is where my love of making toys began. So understandably the majority of my puzzles are designed for children. But many adults enjoy puzzles as well so now I design toys for all ages from child to adult.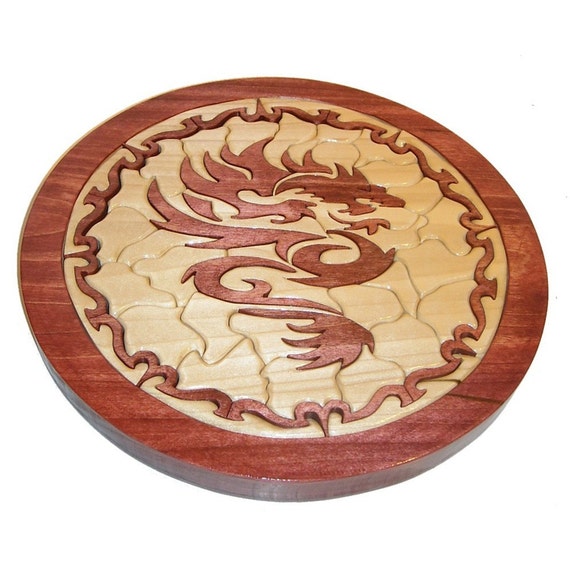 Tribal Dragon Wooden Mosaic Tray Puzzle
I designed this Tribal Dragon Puzzle by the growing trend of tribal tattoo art. This artistic decorative puzzle contains 58 natural and stained wooden pieces and measures 11" in diameter. It is nestled in a 1" deep wooden tray which is stained Red Sedona. I used only the highest quality Poplar hardwood when handcrafting this piece. I hand cut each piece using a scroll saw and then sanded, rounded the edges, and hand buffed them down to an sleek smooth finish. Then I hand polished each piece to a a truly high gloss in between coats of crystal clear glaze making the finish look almost liquid in shine. Don't let this little puzzle fool you. Although it looks simple in design, it is really quite a challenge with similar looking shapes and your only clue as to piece placement is by matching the unique shape of the edges of each piece with it's neighboring piece. When assembling this puzzle you really have to be good at noticing the subtle differences in each unique piece. But don't worry if it becomes to hard of a challenge, it comes with a guide to help you along should you choose to use it. This puzzle makes a terrific gift for puzzle lovers looking for a challenge or it can be used as decoration on a coffee table. It makes a great addition to any fantasy collection as well as makes a great conversation starter or ice breaker at parties. For easy display purchase my Tray Puzzle Wooden Stands (which can be found in my Etsy store) for an additional $5.00
This puzzle is complex and designed for advanced puzzle builders. This puzzle is not suitable for children under the age of 13 years old.
Hello, Thank you for stopping by my Etsy handmade store.
About me: I am a carbon based life form, just like you.
Handwork is fun! YAY!
Blessings on your day!
Cheers!
Jzin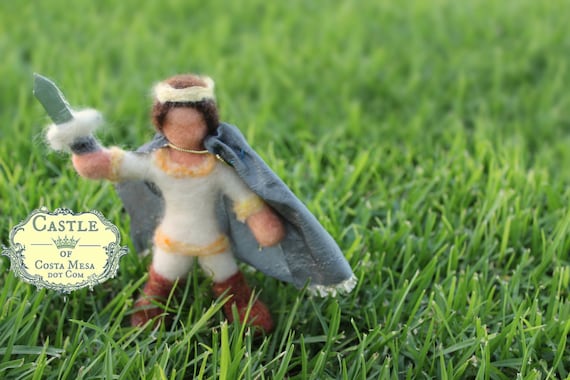 Waldorf Prince Doll, Needle Felted
This is listing for 1 (ONE) doll: The Prince
Here is a simple archetypal Waldorf doll for sale. He can be a boy/prince/man/rich man/poor man/father/etc for your table top puppetry, imaginative play or story telling. He has posable arms and legs.
Thank you so much for visiting and thank you for supporting HANDMADE.
On my Etsy site I offer my unique felt products.
I wish you a lot of joy in looking at them.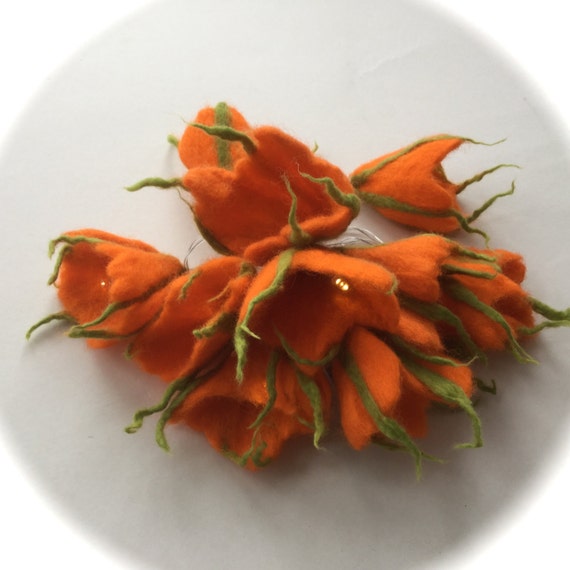 Autumn Fairy lights string with 10 Wet felted flowers,
The light-string is about 35"long.
Battery size 2xaa (not included)
For inside use only!!
LED lights do not warm up so are safe to use for lengthy periods without danger of starting a fire.
Natural handmade gnomes, play silks, blocks, and toys inspired by Waldorf Education and made with wool, felt, silk, wood, and watercolor paints.
To find out more about our family of five moving into a tiny house to find practical solutions to child homelessness, please watch our video and learn more by clicking here: http://www.gofundme.com/tinyhousebigfamily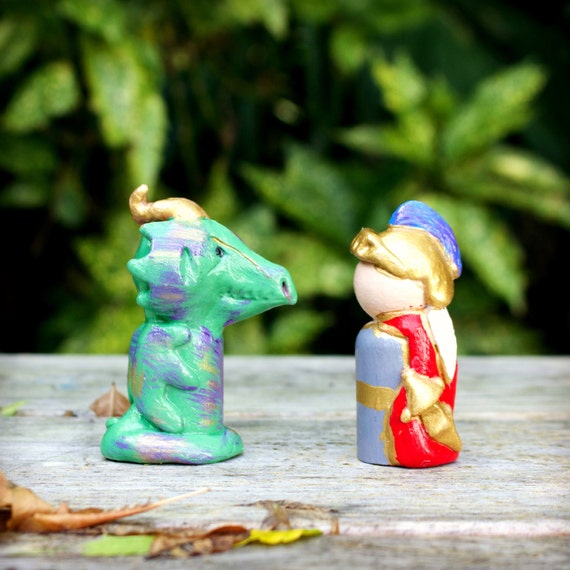 This peg doll set is inspired by the story of Saint Michael. It includes Saint Michael wearing armor complete with a sword, and an iridescent dragon with gold and purple shimmers on his scales.
It is perfect for Michaelmas celebrations!
The dolls measure about 2.75 inches tall. They might not be suitable for children under three or who are still mouthing toys.
If you would like a particular peg in a different size, or there is a custom design you would like, please send us a message. Thank you so much for visiting our shop!








CHECK OUT THE