This week we have animal items from 6 more shops around the world. Next week will be something different but I

have

not decided yet. Let me know in the

comments if

you have an idea.


Weekly posts showcase handmade items crafted from varied materials. I also share the item on my Pinterest, Tumbler, Twitter and Facebook page. Where possible I have included

social

media links for the artist/crafter. We appreciate you sharing on

social

media.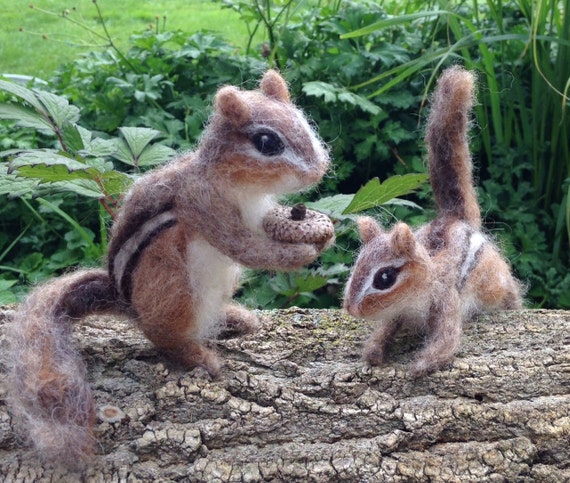 Claudia from Illinois, USA loves to needlefelt!
"Bring the woodlands inside with this little chipmunk. He is a little smaller than a live chimpmunk and he was created with wool through the art of needle felting. This listing is for one (1) chipmunk.
This chimpmunk is poseable and you could change his poses with your mood. He could also be posed holding a nut in his hands. He has a wire frame that runs through his body, limbs and tail. He was made of a variety of natural wool and fibers, mostly natural hues. He is soft and was created with shetland wool, mohair and alpaca wool. He is about 8 inches long including his tail. He stands about 4.5 inches tall in the crouched position. My needle-felted creations are original designs that I create from photos and drawings. I sign each work on the bottom with a needle-felted logo."
She is on
Facebook
and
Instagram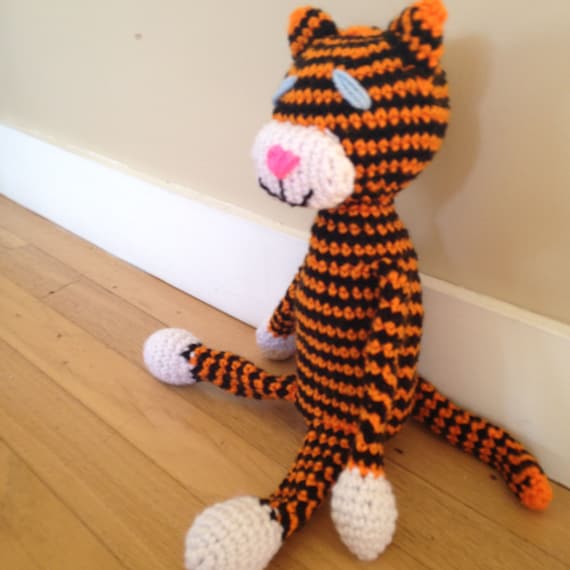 Melissa Mara from California, USA has a shop full of brightly crocheted items.

"A perfect children's bedtime toy, this orange and black cat would be a perfect friend! He'd be a great Hobbes for your little Calvin (or Susie!). He's about 10" when sitting (and yes, he can sit up on his own). He is made of bright, durable acrylic yarn, with hypoallergenic polyester stuffing. He can be tossed around and tackled by a 5-year-old and still hold his shape. This item is MADE TO ORDER, so if you would prefer him in a different color, I can make one in pretty much any color imaginable, in about 3-4 business days. Just message me."

Check her Facebook and Blog and Instagram.
Hungry Squirrels Color Sorting Game from BraveBeaver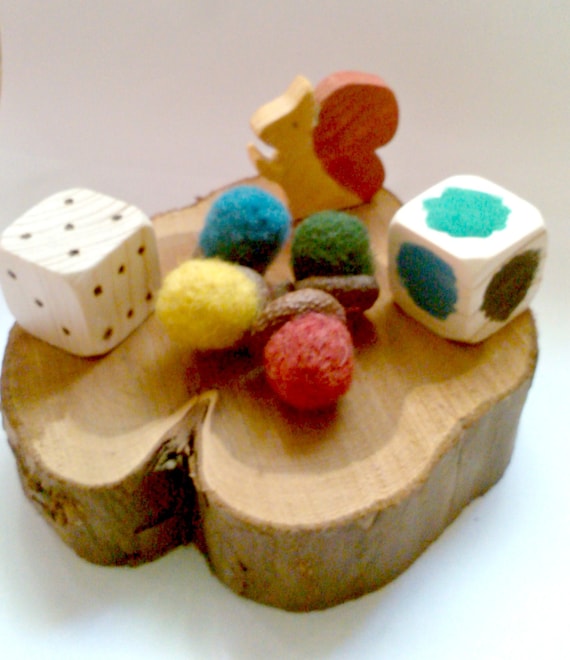 Emese from Hungary
crafts in wood with her two teenage sons.
"Fall is here, squirrels are hungry. They go nuts about these colorful acorns. Help them find more and more. This color sorting, and fine motor skills developer game is a great tool to teach colors to your kids by sorting felted acorns, basic math concepts with the dotted dice. The game is simple: roll the dice and gather the right amount and color of acorns. If you roll black, you miss a turn. If there are less acorns left in that color, you miss a turn. Easy peasy. This is handmade wooden toy, painted with non-toxic paint, finished with beeswax. The dots are burned in the wood. Our hand-made, Waldorf education inspired toys are made with big care and love."
Brave Beaver on Facebook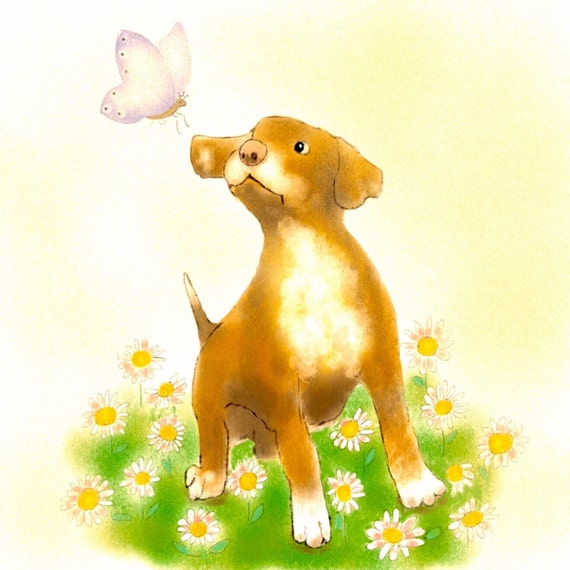 Micha Klan from Germany
has many lovely original designs for children in her shop.
"Puppy hunting a butterfly. When my dear old pet was a puppy he loved tu hunt everything that was moving. And all the children in the neighborhood had fun. By now it is eleven years old and lies most the time snoring under my desk. This digital painting is a lovely wall decoration for small children. The size of the image is: 20 x 25 cm with a small white rim. The printing will be done after your order. You have the possibility to choose between two paper qualities:
1.The image will be printed on Torchon Cellulose paper, warm white from Hahnemühle.
This paper is a watercolor paper with a fine texture and a matt surface.
2. The image will be printed on artist carton, brilliant white.
Both printings will get a Hahnemühle finish, which protects them from dust and color fading."
Micha has a blog.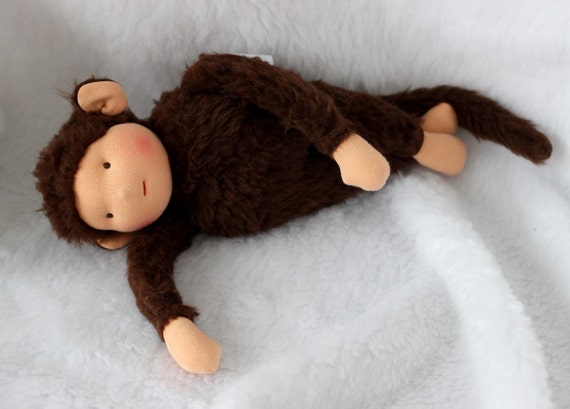 Karen Baudry from France made this sweet doll and also many classic Waldorf dolls.
Here is Luigi, the little Monkey! About 11 inches, Luigi is realized with a brown false fur and a cotton jersey fabric. Luigi is stuffed with virgin carded wool. The face is embroidered in the same way as waldorf dolls. Luigi is a quite soft animal which asks only for cuddles!! Completely realized in the hand, he will suits for the game of children over 3 years. Hand washing - Natural drying
Find her on Facebook
and her
website.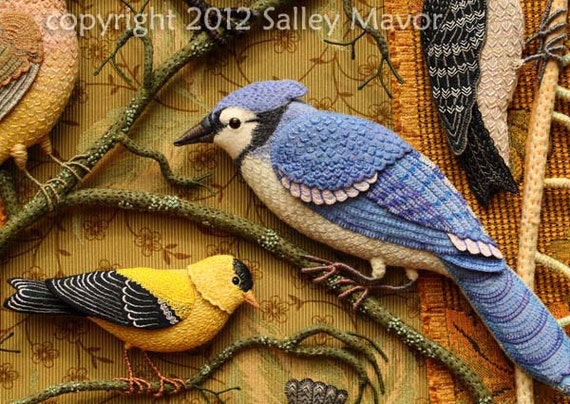 Salley Mavor from Massachusetts, USA
makes exquisite figures in felt with detailed embroidery.
"Set of 4 printed note cards of detailed images from Salley Mavor's embroidered sculpture, "Birds of Beebe Woods". The full piece is reproduced as an 18" x 24" poster, which is also available on Etsy:
https://www.etsy.com/listing/108276498/birds-of-beebe-woods-18-x-24-poster
The image shows a close-up of the wool felt birds, clearly depicting the hand embroidered details. This image show close-ups of the flashy blue jay and regal gold finch, clearly depicting the hand embroidered details. Please note: the copyright watermark will not appear on the card. Set of 4 cards, 4.25" x 6", with envelopes. Bulk discount available on orders of 24 or more "Blue Jay" note cards. Just request a custom order. The original BIRDS OF BEEBE WOODS piece will be displayed May 15 - Sept 15, 2015 at Highfield Hall and Gardens in Falmouth, Massachusetts. Oct 21. 2015 – January 10, 2016 ~ "Insects to Elephants" at the Wisconsin Museum of Quilts and Fiber Arts in Cedarburg, Wisconsin."